ADRIFT - the most popular and respected adventure operator in the country is comprised of an expert local and international team with over 30 years of worldwide rafting and adventure experience to guide you through Uganda's most authentic and unique activities on the River Nile.  
Adrift has an unparalleled safety record that is both unrivaled and admired, and we aim to keep it this way.  We thank over 58,000 customers who have safely rafted the Nile with us, including Prince William, Ginger Spice, Mikka Hakkanen, Ewan McGregor and Charlie Boorman.
Leading the way, Adrift made the first-ever descent of the Nile river in Uganda in 1996 (10 years after first scouting the river) and hit world headlines before introducing commercial whitewater rafting to the country.
Heart
-pounding whitewater rafting excitement is unequaled anywhere on the planet!  Adrift's one-day rafting trip is the most popular ride on the Nile.
Prices shown with a * are services provided by 3rd party suppliers and whilst we will endeavour to update the prices, they are subject to change at the discretion of the company concerned, and we take no responsibility for incorrect pricing.  Rafting prices only include pick up and drop off at Wildwaters Lodge.  All other experiences attract a vehicle transfer cost of USD 45 one way.  Prices listed below are for 2016 only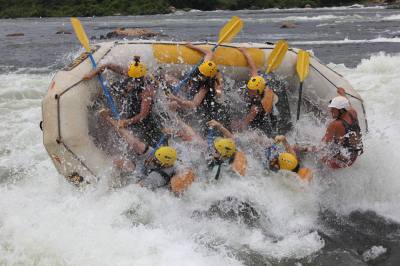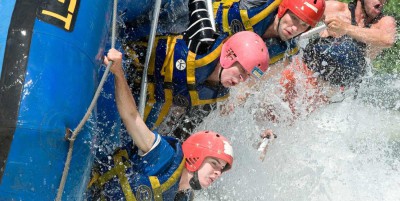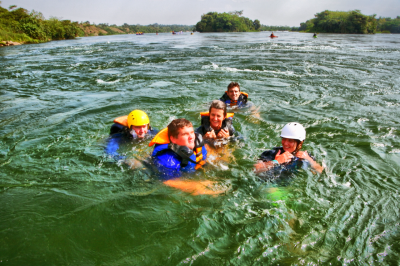 Half / Full day Rafting
Widely regarded as the best one day rafting trip on the planet, it is the safest and most popular trip down the Nile. The rapids are challenging and legendary in the hands of those who know the river best. Enjoy a mouth-watering
floating lunch whilst 
mid-stream in the Nile (this option is unique to Adrift).  Relax beneath the spacious thatched roofs we have purposely designed and constructed at the start points,  lunch island and end points of the rafting experience. There is no better value on the Nile.

US$ 125  per person (1/2 day)
US$ 140  per person (full day)

return WWL transfers included

Rafting / Bungy Combo
For the adrenaline junkies we highly recommend this excellention combination offer of Rafting and Bungy jumping. Pick up from WWL is included, but drop off  after the bungy jump can be arranged
US$ 195 per person
drop off at WWL after bungy jump US$ 35 per vehicle

Grade 3 Rafting
Truly memorable full day experience for a slightly less strenuos day. Drift amidst the breathtaking scenery of Wildwaters Reserve on the world's most famous river. Marvel at the birdlife and raft through the breaking waves.
US$ 125  per person (1/2 day)
US$ 140  per person (full day) 
return WWL transfers included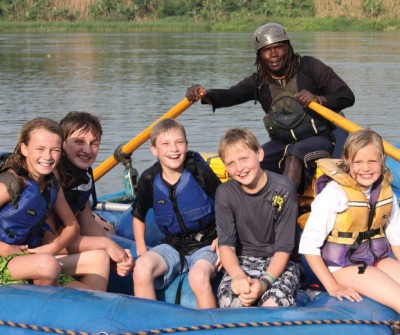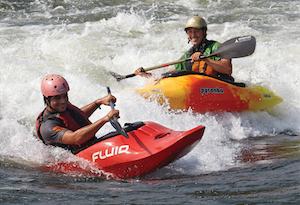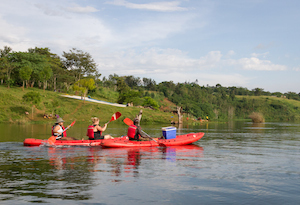 Fun for the whole family (ages 2 -72 years). Bounce down small rapids, drift between deep-green pools and get up very close to the remarkable birdlife on the Victorian Source of the river.

Price:  US$ 50 per person (Adult)
Price:  US$ 30 per person (Child 12 & under)

​return WWL transfers included

Full Day White Water Kayaking
Warm water, sunshine, tropical islands and the perfect introductory rapids makes the Nile the perfect place to learn how to whitewater kayak.  Our Introduction to Whitewater day is conducted directly from WWL and is sure to give you a memorable experience off the tourist trail.  The day is designed to teach the skills you need to run a fun white water section on your first day. One of our highly qualified guides will be with you every step of the way.  This is our most popular option.
​​
* US$ 125 per person (SPS US$ 30) 
​

Half Day White Water Kayaking
This experience is offered on the smaller whitewater at the base of the Wild Waters Lodge island. Done on our more stable Sit On Top Kayaks this is a taster as to what white water kayaking is, it gives you the opportunity to interact with the river around you and get a feel for the rapids. You will be guided through some mild white water and might end up for a quick swim in the river, but there will be safety kayakers to help you back into the kayak. A fun, safe and exciting activity for the whole family.
 ​
* US$ 95 per person (minimum 2 people)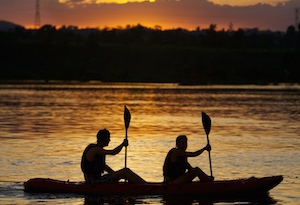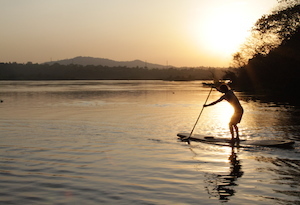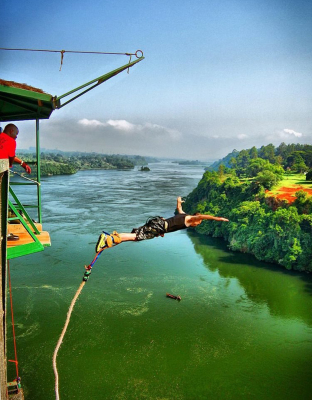 Wildwaters Kayak Cruise

Take a relaxing Kayak Cruise amongst the jungle and tropical islands on a flat water section of the famous White Nile. This slow paced activity is suitable for a variety of ages and no prior paddling experience is needed. Our guide will entertain you with local stories and share his knowledge of the wildlife found in this paradise. A scenic and peaceful experience awaits you. Done directly from WWL



(minimum 2 people) (2 hrs)
Bungee Jump
Leap over or into the source of the Nile from one of the most spectacular bungee jumping sites in the world. We also specialize in tandem jumps, water touches, and full-moon jumps.  These can be organized at most times (including in the dark).
US$ 115 per person
or jump 3x and pay for 2 only
US$ 165 per person
transport not included but can arranged for     US$ 70 return

Wildwaters Stand up Paddleboard Tour
​Use a Stand Up Paddleboard as your unusual and unique craft to see the Nile. A sense of humor, appreciation for exploration and a willingness to try something new is all you need to get going on a SUP board. Join us and set your own pace for this fun activity, challenge yourself to a great core workout or simply meander through the islands enjoying the birdlife up close and personal. Our guide will teach you all you need to know and share his local knowledge about the area. Done directly from WWL
​
​​
*US $ 75 per person
(minimum 2 people)(2 hrs)​​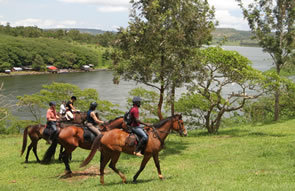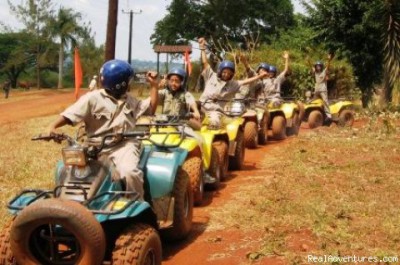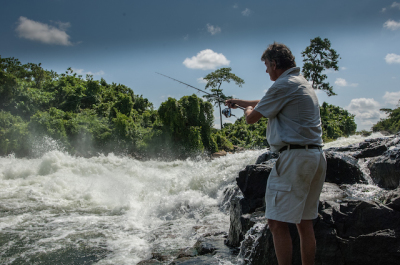 Horse Riding
Our short safaris generally start at 10am and 2pm each day, but it is essential that you pre-book your safari so we can ensure horses and guides are available and ready when you arrive.
This ride is for groups of friends and family with a range of abilities who want to ride together. There are various opportunities for cantering, and the ride takes in  the local village and a section along the Nile.  We offer riding safaris for the less experienced and for the more experienced, overnight safaris.
* US$ 60 per person (2 hrs)​
transport not included but can arranged for US$ 70 return
River Ride Quad Biking
Free training practice session then 2 hour Safari. this is the most popular trip. Easy trails make up the start of the trip and then we have the option of more 'technical' sections if suitable. We follow the Nile downstream from Bujagali Falls, below the dam site and then away from the river banks, through the farmland and forest of rural Uganda.
​​
* US$ 85 per person
​​transport not included but can arranged for US$ 90 return per vehicle (up to 6 pax)

Fishing
If you have your own gear, there are some "worth a try" fishing spots around the island that we are happy to guide you to.  For some reason, the guys with the long bits of wood and fishing line do a lot better than we do with the fancy kit, so we suggest asking for a few pointers.   We are able to source worms for you from the local fishermen for a nominal fee and we do have rods for hire at US$ 15 a day
Rafting & Bungee Flyer 2018

Adrfit combination Specials 2018